Gallery
Design Award Winner: Service Tech
Category Winner | Best DCC Cylinder Application
September 15, 2021
Submission: Service Tech
Project: Britt Design Group
Location: Austin, TX
Product(s): DRD2 Fixed Downlight, DRD4 Adjustable Downlight, OneFrame Housing, DRD5S Surface Mount, DCC2 Cylinder, DCC4 Adjustable Cylinder
Description: "We were able to use a variety of DMF lighting products in our collaboration with Britt Design Group in the build out of their new office space in Austin, Texas. The lobby of BDG's new space serves as a rotating art gallery so we used the DRD2 square wall wash trims for an even distribution of light that will accommodate multiple sizes of pieces to display. The wall wash trim is also used in the Conference Room to highlight the magnetic dry erase wall to display their project ideas and finishes. Under stair storage and mechanical rooms are lit with square DRD5S's. The Reception is welcoming with general lighting provided by the DRD2 with square trims. A pathway of DCC2 cylinder pendants with decorative trims guide you through the Library and Corridor with three DCC4 cylinder pendants accenting the artwork at the entrance of the Conference Room doors. The Break-room general lighting utilizes the DRD2 and round trims with the exception of three round wall wash trims to accent display walls. Three of the four offices are lit with DRD2 with round trims, with the exception of Laura's office that has six DRD4 and round trims to highlight her artwork and diplomas."  – Tatiana Bednorz, Lighting & Shades Dept Manager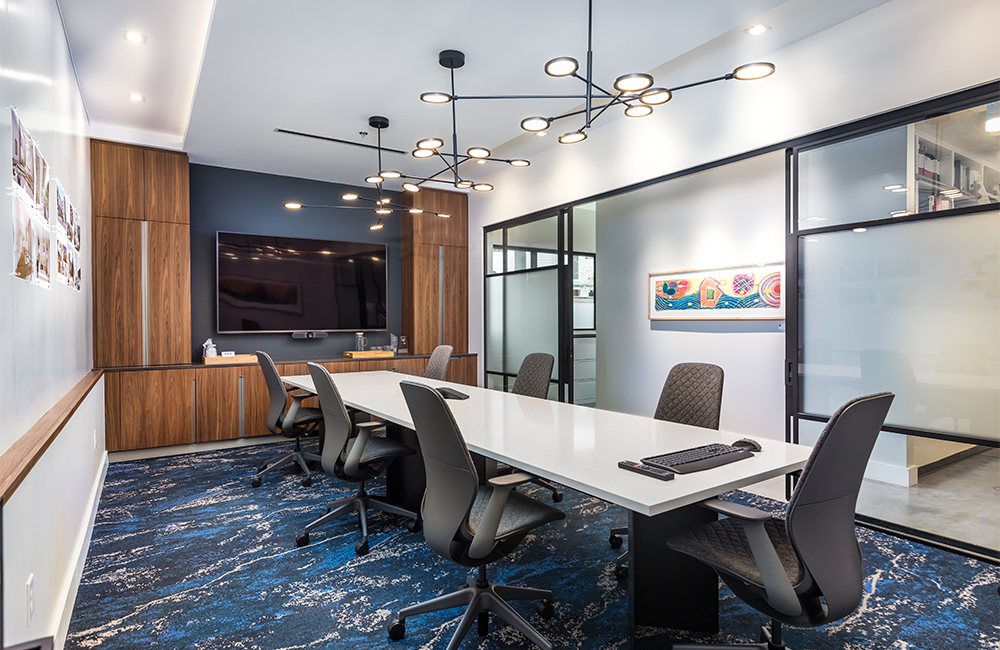 DRD2 & OneFrame
The DRD2 is a compact LED module with an integrated driver that delivers the optimal balance of form and function. It provides outstanding illumination and color consistency while being simple to specify, install and maintain. When paired with the award winning OneFrame housing, you can achieve the fire, sound, wet location and other ratings required for the most demanding projects.
DRD4
The adjustable DRD4 provides ultimate flexibility in the form of directional lighting in a compact, modular downlight. With an integrated driver, multiple beam options, and field-changeable accessories, it delivers tool-free aimed and lockable lighting that adapts to the demands of today's designs.
DRD5S
The DRD5S redefines what's possible for a surface mount downlight. Packed with technical breakthroughs, the ultra-thin DRD5S matches the elegance of a high-end recessed downlight. In addition, it's more versatile because it can fit more applications, even those with limited plenum space.
DCC
By combining a suite of customizable features with our highest performing LED modules yet, the DCC provides brilliant illumination and beautiful design versatile enough for whatever your project needs. The DCC centers around a modular LED lighting system, so it's easy to specify, install and maintain.
About Service Tech
Founded in 2003, Service Tech in Austin, TX focused more on how a client will work, live, and play in their space. Understanding our clients "Activities" helps us design superior AV systems that make sense and match ease of operation. Learn more about Service Tech.
– – – – – – – –
Connect on LinkedIn, Instagram, Facebook, or Twitter to stay up to date with everything that's happening at DMF Lighting.